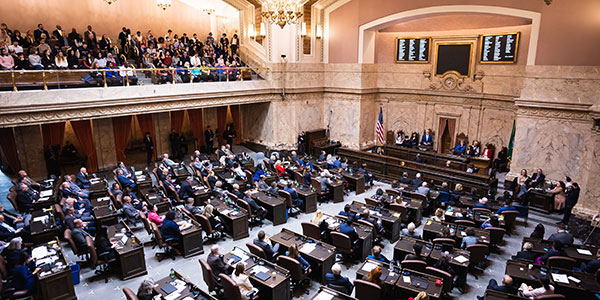 During odd numbered years, the Legislature and governor adopt new two-year operating, transportation and capital budgets. During even years they adopt supplemental budgets to adjust for updated revenue projections, changes in how many people are receiving various services, and other other new information. The Legislature must keep the budget in balance.
2021-2023 enacted budgets
The 2021-2023 budgets prioritize efforts to address housing and homelessness, combat climate change, continue progress on COVID-19 response and recovery, and strengthen the public health system. The 2021-2023 budget also expand investments in education, childcare and early learning, behavioral health reform, and reforms to improve equity and accountability in law enforcement and state government.
The state is projected to have $3 billion in reserves at the end of the current biennium.
READ MORE:
Key Successes
2023 Budget Key Successes
Operating and capital budgets include more than $1 billion to address housing and homelessness. Funding will support construction of 13,200 affordable housing units over six years, services and emergency housing for 2,000 people, and creation of a new Covenant Homeownership Program to help hundreds of families from historically marginalized communities purchase their first homes.
Legislators increased funding for K-12 education by nearly $3 billion with a focus on special education and continued funding for nurses, counselors and social workers.
Budgets include a historic $732 million for salmon recovery efforts.
The state's new cap-and-invest program provides more than $2.1 billion for a wide range of climate-related investments such as charging infrastructure, electric ferries and trucks, grants to improve air quality in overburdened communities, and assistance to help lower-income households afford heat pumps and weatherization upgrades.
The state successfully launched the new Working Families Tax Credit in January 2023. In the first few months, more than 120,000 households applied and rebates averaged around $800.
Washington's capital gains tax was successfully upheld by the Washington Supreme Court in March 2023. The tax will yield about $849 million in its first year. Funding is used for K-12 and higher education.
2022 Budget Key Successes
Homelessness: Legislators approved historic additions to the state's affordable housing programs, including funding for a new Rapid Capital Acquisition program that will allow communities to purchase properties like hotels or apartment buildings and quickly turn them into shelters with supportive services. Legislators also approved $50 million to help transition people living in unsanctioned encampments along highways.
Behavioral health with a focus on youth and children: The budget includes new funding to expand capacity for community-based behavioral health and crisis services, especially for children and youth. The budget allows the state to double the number of long-term inpatient beds for children and create all-new short-term youth crisis stabilization beds. The budget also provides funding for schools to hire more counselors, psychologists, nurses and social workers.
Climate and transportation: The Move Ahead Washington transportation plan is unlike any other in state history. Using revenue from the state's new cap-and-invest program to reduce carbon emissions, the new package pays for an unprecedented number of programs to expand transit, electrify the state's ferries, make it easier for people to purchase and use electric vehicles, and more. The package will support an estimated 2,390 construction and ferries jobs annually.
The state budgets also provide funding for salmon habitat and restoration, weatherization for low-income households, and community solar installation and battery storage grants.
Education: Legislators approved $100 million for much-needed seismic safety improvements at K-12 schools. They provided funding for schools to hire more nurses, psychologists, counselors and social workers. An increase in early learning funding will create hundreds of new full-day preschool slots, and legislators approved a new low-interest loan program to help more students pay for college.
Community reinvestment: Legislators approved $200 million for a new Community Reinvestment Account. Inslee proposed this program to provide grants to communities that experience inequitably enforced criminal laws and penalties regarding drug sales, possession and use. The grants will begin next year and will be used for economic development, legal assistance, reentry programs and more.
Poverty reduction: Expanded food assistance and hunger relief programs to help serve about 2.5 million Washingtonians. University of Washington and Washington State University issued a report last summer affirming that food insecurity surged in Washington during the pandemic with more than one in four Washingtonians reporting difficulty affording food.
For the first time in over 10 years, legislators significantly increased the very small cash benefits that support more than 21,000 low-income, vulnerable Washingtonians, such as those with disabilities. The maximum cash benefit under the state's Aged, Blind or Disabled program will increase from $197 to $417 per month for a single-person grant, and from $248 to $528 per month for a two-person grant.
2021 Budget Key Successes
Pandemic response
Since March of 2020, Washington state received nearly $11 billion from the federal government to support the state's COVID-19 pandemic response, relief and recovery efforts. Among other things, state leaders used the funding to expand unemployment benefits, support small businesses and local governments, provide rental assistance and food assistance.
Climate
The Climate Commitment Act (SB 5126), caps and reduces emissions over time while generating revenue to invest in a more sustainable energy future. It contains the strong environmental justice policy in the nation.
Capital budget includes $76 million for the Clean Energy Fund, building energy retrofits, energy efficiency improvements to low-income homes.
Budget reforms to help working families
The Legislature passed a capital gains tax that makes historic steps to improve our regressive tax system. They also passed a Working Families Tax Credit that will go into effect in 2023 and provide rebates to low-income families.
Broadband
The operating and capital budgets make major new investments to expand broadband internet access across the state. The capital budget includes $400 million for broadband infrastructure. Operating budget includes $30 million for digital equity, including WiFi hotspots.
2020 Budget Key Successes
2020 supplemental budget highlights
Coronavirus
Lawmakers voted unanimously to approve House Bill 2965, which provides $200 million from state reserves to help the state, local governments and federally recognized tribes respond to the novel coronavirus (COVID-19). The emergency legislation includes $25 million for unemployment insurance to financially help employees who are temporarily laid off due to the COVID-19 outbreak.
Homelessness
The supplemental budget includes a significant investment to help bring vulnerable people inside, with a variety of services to move homeless individuals into stable housing. The budget invests over $230 million over four years for supportive housing, rent assistance, diversion services, transitional housing for homeless youth and creating new shelter capacity.
Diversity, Equity, and Inclusion
Gov. Jay Inslee signed Engrossed Second Substitute House Bill 1783, which created the Washington State Equity Office. The office will help ensure that we will welcome and include all Washingtonians in our workforce regardless of race, ethnicity, country of origin, immigration status, disability, age, sexual orientation, gender identity and military status.
Investing in Washington's Workforce
Inslee is committed to build an economy that works for businesses and workers alike. He has partnered with the business and labor communities on strategies to expand training and career-connected learning opportunities across the state. The supplemental budget advances this important work with $21.1 million in investments in workforce development.
Early Learning
In recent years, Gov. Inslee and the Legislature significantly expanded access to early learning. The current two-year budget added nearly 1,200 enrollment slots to the Early Childhood Education and Assistance Program, the state's preschool program for 3- and 4-year-olds whose family income falls below 110% of the federal poverty level. Since 2013, we've increased the number of ECEAP enrollment slots from fewer than 6,000 and by 2021, we will reach nearly 15,000 slots.
Child Welfare
The supplemental budget provides additional funding to help recruit and retain foster parents. While the cost of living has risen, we have not adjusted the rate we pay to foster parents since 2016. The budget increases the base foster care payment rate by $100 per child per month to licensed foster care parents.
Supporting Retired Teachers and Public Employees
The supplemental budget funded Engrossed House Bill 1390, which provides a benefits increase for retired teachers and public employees in the Teachers' and Public Employees' Retirement Systems Plan 1. This is a one-time, permanent adjustment of 3%, up to a maximum of $62.50 per month.
Climate action
The supplemental budget provides significant funding to reduce climate emissions. Lawmakers approved the governor's proposal to align Washington state emission targets with the latest scientific guidance by reducing global Washington state human-caused emissions by 45% from 1990 levels by 2030, and 95% by 2050..Washington will also join nine other states to increase the availability of zero-emissions vehicles (ZEVs) sold to consumers across the states. And funding is included to install additional EV charging infrastructure at state facilities. This will support the planned state purchase of EVs over the next three years.
Transportation/Initiative 976
Lawmakers largely followed plans the governor put forward for responding to Initiative 976, which voters approved in November. The initiative significantly cuts funding for state and local transportation projects and operations by lowering state car-tab fees, repealing Sound Transit car-tab taxes and eliminating a .3% sales tax on vehicle purchases and the authority for cities to charge car-tab fees.
2019 Budget Key Successes
Final 2019-21 biennial budget
The 2019–21 biennial budget makes significant investments in clean energy, behavioral health, orca recovery, education, statewide broadband and other priorities that help Washington's families and businesses thrive.
The 2019–21 operating, capital and transportation budgets make significant investments in priorities outlined by Gov. Inslee at the start of the legislative session, including clean energy, behavioral health, orca recovery, education, statewide broadband, affordable housing and more. These investments help Washington's families and businesses thrive.
2019-21 budget highlights
Clean energy:

The budget includes funding for Inslee's proposals in

clean electricity, buildings and transportation

. This builds on efforts already underway across the economy to transition to 100% clean energy, construct ultra-efficient buildings, electrify the state's transportation system and phase down super-pollutants in certain products.

Behavioral health: The legislature funded Inslee's detailed plan for transforming Washington's behavioral health system by shifting to treatment in community-based facilities, expanding options for care, providing housing support and investing in behavioral health care workers. The legislature supported and funded these priorities.

Southern Resident orcas: The legislature funded Inslee's proposal to will support the state's efforts to restore salmon, improve habitat, reduce vessel disturbance and reduce toxics in the water to save Southern Resident orcas.

Statewide broadband:

Broadband access is essential for full participation in society and the modern economy.

Inslee's proposal

, which was passed and funded by the legislature, includes a new Statewide Broadband Office and a separate capital funding to establish a competitive grant and loan program for broadband projects.

Education:

Building on Inslee's budget proposal, the legislature invested heavily in teachers, special education and school counselors, nurses and social workers to support students. It supports local levy funding to enhance K-12 programs. It also fully funds

Washington College Promise

, guaranteeing financial aid for all eligible students and increases funding for Career Connect Washington to create pathways between high school and good paying jobs.

Homelessness: The legislature made investments that built on Inslee's strategy for combating homelessness aimed at building and preserving affordable housing units, providing housing assistance to vulnerable people and preventing homelessness.
2018 Budget Key Successes
The enacted 2018 supplemental operating budget meets the state's final basic education obligations under the McCleary lawsuit, adds crucial funding for behavioral health services, provides property tax relief for homeowners and invests in strategies to fight the opioid epidemic.
The 2018 supplemental budget includes:
$970 million to fully fund the state's basic education obligations in the 2018–19 school year. This investment is expected to finally bring an end to the years-long McCleary lawsuit. Over the past four years, in response to the lawsuit, the state has added billions of dollars in new funding for public schools. K-12 spending will make up nearly 51 percent of total state General Fund spending — the highest level in more than 30 years.
$27 million to boost funding for special education.
Cuts property taxes in 2019 for homeowners and businesses.
Makes significant investments and reforms to the state's behavioral health system, including about $157 million in new state funding to expand behavioral health services in communities, make vital improvements at the state's psychiatric hospitals and funds a package of strategies the governor advanced to combat the state's opioid crisis.
Includes $1.5 million to protect Southern Resident killer whales and support the governor's efforts to develop a long-term orca recovery plan.
Provides funding to strengthen the state's earthquake and tsunami preparedness, improve efforts to prevent oil spills and increase the state's wildfire prevention and response capabilities.
2017 Budget Key Successes
The 2017-2019 operating budget fully funds schools for the first time in decades, and avoids damaging cuts to services and programs that help families and workers while putting significant new resources into reforming and strengthening Washington's mental health system.
New department of Children, Youth and Families. The governor signed a bill to restructure how the state serves at-risk children and youth. After a yearlong transition period that began July 2017, the new agency will oversee several services now offered through the state Department of Social and Health Services and the Department of Early Learning. These include all programs from the Children's Administration in DSHS such as Child Protective Services, the Family Assessment Response program and adoption support, as well as all DEL services, including the Early Childhood Education and Assistance Program for preschoolers and Working Connections Child Care.
Paid family leave. Washington became the fifth state in the U.S. to establish a paid family and medical leave program for workers. The law, signed by the governor was passed with strong bipartisan support and will be in place by 2020. It creates the Family and Medical Leave Insurance Program, which will provide everyone in the workforce with up to 12 weeks of paid medical leave, and up to 12 weeks of paid time off to care for a new child or an ailing family member. That leave is capped at 16 weeks if the employee needs both types of time off in a one-year period.
2016 Budget Key Successes
Results Washington teams developed improvement plans for nearly 200 goals, measured results and collaborated with partners and among state agencies on solutions.
Gov. Inslee launched monthly Results Review meetings to assess progress.
Thousands of state employees learned Lean principles to improve their work.
Lean improvement efforts in state agencies resulted in faster permits, shorter forms, quicker responses to public disclosure requests and millions of dollars in savings.
2015 Budget Key Successes
2014 Budget Key Successes
Lean savings. Through Results Washington, the state has effectively engaged its employees, partners and the public in building a healthier, better-educated and more prosperous Washington. Initial reports from Results Washington show the state has saved millions of dollars in 2014, is reducing future costs, and better tracking outcomes of current state spending.
2013 Budget Key Successes
Hold-steady budget which invests in education, human services and other critical shortfalls.
Gov. Inslee and lawmakers crafted a budget that put more than $1 billion in K-12 education and put a freeze on college tuition, while protecting — and in some cases enhancing — funding for programs that protect our most vulnerable citizens and ensure public safety. They also addressed critical shortfalls in a few areas, such as state parks.
The budget fully embraced Medicaid expansion as allowed under the federal Affordable Care Act. By doing that, the state should save more than $300 million over two years.
The 2013–15 capital budget included:

$3.6 billion for new projects statewide and provides $2.8 billion for the continuation of projects underway.
Approximately $600 million into new construction for K-12 education and ~$500 million to complete construction projects underway.
$56 million in housing investments for farmworkers, veterans, people with chronic mental illness and people with developmental disabilities.
$40 million in technologies that save energy, reduce energy costs, cut harmful air emissions and boost energy independence for Washington.
Related Websites