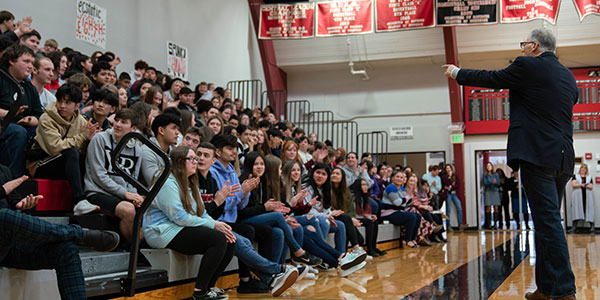 Supporting the full continuum of education, from early learning through post-secondary and workforce training, ensures that students are prepared to pursue their goals and participate in Washington's world-class economy.
The state has significantly expanded access to early learning programs and all-day kindergarten. The number of children served by the state's early learning program will nearly double from about 8,000 in 2013 to 16,000 in 2023 with a goal of fully serving all eligible children by 2026. The state is actively looking at ways to support childcare workers and improve affordability for all families.
Education funding reforms have resulted in significantly more funding for public K-12 schools and their more than 1.1 million students during the past 10 years. New policies and investments aim to improve our education system and increase equity. Funding for special education has steadily increased, with funding support for accelerated learning, enrichment experiences, dual language programs, computer science, STEM and dual enrollments.
Washington has one of the most generous financial aid systems in the nation, including programs such as the College Bound Scholarship and the Washington College Grant. For students pursuing the many good-paying career paths that don't require a four-year degree, the governor's Career Connect Washington program connects thousands of students to registered apprenticeships and technical training in education, health care, technical trades, cybersecurity and more.
Key Successes
2023 Education Key Successes
The 2023-25 biennium budgets increased overall K-12 education spending by $2.9 billion, the largest investment since the McCleary court decision. It includes continued funding for additional nurses, counselors and social workers, and $370 million in new spending for special education.  Legislators raised the cap on eligible funding for school districts from 13.5% of their budget to 15% and districts' eligibility threshold for seeking safety net funding special needs students when costs exceed the 15 percent cap.
The budget expands access to free meals for thousands more kids at schools serving a larger share of low-income students.
The budget includes nearly $80 million to continue efforts to improve and expand the states' Early Childhood Education and Assistance Program. It increases pay for providers and adds 1,000 school day slots over the next two years.
Legislators increased funding for the Washington College Grant funding to allow postsecondary students in families earning at or below 65% of the median family income to receive the maximum grant – equivalent to full tuition and fees.
The governor also signed legislation ensuring elementary school students receive sufficient daily recess time. Beginning with the 2024-25 school year, public schools must provide a minimum of 30 minutes daily recess each day for elementary students when the school day exceeds five hours.
2022 Education Key Successes
The 2022 supplemental budget directed K-12 schools to hire new nurses, counselors, social workers and psychologists. Additional funds total nearly $800 million. HB 1664 changed the basic education funding formula to ensure these positions are funded in the future. This was one of the biggest investments for student support services of any state.
Funding to ensure every student in one cohort (5th or 6th grade) has access to outdoor learning and immersive educational opportunities.
Passage of the Outdoor School for All Act including $10M in ongoing funding for K-12 outdoor education that partners school districts with non-profit providers and state natural resource agencies.
The budget increased the availability of preschool slots by 750 to serve a total of 16,000 children in the state's early learning program (Early Childhood Education and Assistance Program) per year.
Approval of a new low-interest student loan program for undergraduates and certain graduate students, scheduled to begin in 2024. The program aims to offer loans at around 1% interest. (HB 1736)
The Regional Challenge program was established to help achieve the state's goal of 70% of students having some kind of postsecondary credential. The program expands community and regional partnerships focused on increasing postsecondary enrollment and credential completion (including certificates and degrees) for students of color, students from low-income backgrounds, English language learners, students with disabilities, and foster and homeless youth. (SB 5789)
2021 Education Key Successes
Passage of the Fair Start for Kids Act. The Act makes affordable childcare options available for more families by reducing copays and expanding eligibility for the state's subsidized early learning programs. The bill also provides resources to expand or build new facilities, expand access to support services such as mental health and dual language, and support recruitment and retention of childcare workers. (SB 5237)
Following the return to in-person learning, the Legislature approved enrollment stabilization funding to help keep staff in schools.
The Legislature provided more than $50 million to purchase computers for students and increase internet connectivity in schools. These resources are important for remote learning, and to keep pace with technology needs in the classroom.
The Legislature expanded the Passport to Careers financial aid program for students in foster care or who have experienced homelessness. The program served more than 880 youth in 2021, more than three-times as many served in 2017. (SB 6274)
The State Board for Community and Technical Colleges received funding to expand the Guided Pathways program statewide. The program helps students identify the college or postsecondary credential programs they can complete as part of their career pathway.
2020 Education Key Successes
A variety of 2020 investments aimed to increase equity in Washington's education system, including a review of African American curricula and materials, continued support for an ethnic studies advisory group at OSPI, providing a tribal liaison for career connected learning, and boosting access to healthy school meals, after school and summer programming for Latinx students.
The administration bought more than 64,000 devices for students learning remotely using federal CARES Act dollars. Funds were also provided to improve internet connectivity in areas underserved by reliable connections.
In addition to the $2.6 billion in federal COVID relief funds put toward schools by the Legislature, Gov. Inslee signed a budget that also provided $200 million more in state funds for all schools to implement accelerated learning strategies, which find more efficient and effective ways to help students with grade-level learning.
2019 Education Key Successes
2018 Education Key Successes
McCleary obligation.

The 2017 - 2019 budget included a K-12 funding overhaul that fully meets the state's basic education obligation for the first time in more than 30 years.

Part of the effort to increase basic education funding includes increasing educator salaries to improve the state's ability to recruit and retain good educators. Additional state funding has increased starting salaries by $3,500 per year, and most educators' salaries have increased, on average, approximately 12 percent during the past two years.

K-12 spending now comprises more than 50 percent of state spending with additional basic education funding in place for special education, smaller class sizes, materials and supplies, and support for struggling students. Because students deserve more than just a basic education, the governor and legislators continue to look at additional investments and policies to help schools meet the needs of all their students and families.

Career Connect Washington. In February 2018, Gov. Inslee launched his planning effort to create a career-connected learning and apprenticeship program for the state.
Reinvest in higher education. When it comes to higher education, affordability is vital. Gov. Inslee has worked to improve affordability and access, boost financial aid and focus new investments in high-demand areas that support our economy. The 2015 College Affordability Act, directed that tuition increases be capped at 2% a year. In addition, the Washington has continued to support equity of opportunity with one of the most robust state financial aid program in the county. In 2018, $320 million in financial aid awards was provided to over 70,000 students.
Early Learning. A child care collaborative taskforce was created to provide recommendations that will incentivize employer-supported child care and improve access to affordable high-quality child care. The taskforce will also provide best practices for "Bring Your Infant to Work" programs in the public and private sectors. The Early Childhood Education and Assistance Program (ECEAP) will have more flexibility in meeting the needs of children and families.

There currently is a cap of 10% of the total enrollment of the number of children and families that may enroll in ECEAP but do not meet the income threshold of 110% of the federal poverty level. SB 6149 will expand that cap to 25%, which will enable the state to serve more children and families who exceed the income limit, but who are homeless or experiencing other risk factors.

Department of Children, Youth, and Families. Washington opened the new Department of Children, Youth, and Families agency on July 1, 2018 to transform the way Washington serves at-risk children and families. This cabinet-level agency combines the Department of Early Learning and the Children's Administration, which was formerly part of the Department of Social and Health Services. In July 2019, DSHS's Juvenile Rehabilitation Administration will also join the new department.
Expanding two bilingual programs that help our schools meet the needs of our state's diverse student population.
Combat childhood hunger in our schools by expanding the "Breakfast After the Bell".
Additional State Need Grant funding set to serve an additional 4,600 eligible students in 2019.
2016 Education Key Successes
Tackling the statewide teacher shortage. Washington state has an urgent teacher shortage with more than 40 percent of our schools unable to fill all their teaching positions. Gov. Inslee is committed to making progress on improving salaries and support programs to recruit and retain outstanding teachers. He signed SB 6455 that commits funding to increase the number of qualified individuals becoming teachers.
Closing the opportunity gap. Gov. Inslee signed HB 1541 to improve how we support homeless children, foster youth and students of color in our schools.
Helping low-income students pay for college. Washington state is a national leader in providing financial aid to students and their families. Gov. Inslee signed the supplemental budget that maintained funding for State Need Grant and College Bound Scholarships.
Education Funding Task Force. Gov. Inslee signed E2SSB 6195 to ensure continued bipartisan collaboration on full funding for basic education and commit the Legislature to adopting measures in the 2017 legislation session that finish the job of fully funding basic education. The bipartisan Education Funding Task Force will examine ways to eliminate dependence on local levies for paying for basic education and prepare recommendations about competitive compensation that help districts recruit and retain educators. The legislation also directs the task force to recommend sources of state revenue that could help support Washington's program of basic education.
2015 Education Key Successes
Affordable college tuition. Gov. Inslee signed a historic tuition cut for students at state colleges, including community colleges.
Early education. Gov. Inslee helped pass a landmark bill that will help more than 48,000 children get access to quality early learning. The Early Start Act includes historic levels of funding for Washington's littlest learners.
Financial aid. State investments in both the Opportunity Scholarship and College Bound Scholarship mean a combined 8,000 more students will get tuition relief next year.
Fair pay for educators. For the first time since 2008, we increased pay for teachers and state workers.
Investment in our K-12 education system. The 2015-2017 budget invests $1.3 billion into our K-12 system to make sure our kids get the education they deserve. These investments include:

Class size reduction for grades K-3
All-day kindergarten
Teacher training and mentor programs
Computer science education programs
2014 Education Key Successes
Graduation opportunities. Gov. Inslee signed SB 6552 which boosts the high school graduation requirement from 20 to 24 credits beginning with the class of 2019. The bill incorporates Gov. Inslee's legislation to provide students new options for fulfilling their math and science requirements to provide more pathways for students with different academic or career goals.
Education investments. Legislators approved several important supplemental budget items including an additional $2 million for new teacher mentoring and additional engineering and computer science slots at Central and Eastern Washington universities.
2013 Education Key Successes
Financial aid. Gov. Inslee signed the Dream Act (SB 6523) which provides an opportunity for all aspiring Washington students to compete for state need grants financial aid regardless of documentation status.
STEM education. Gov. Inslee's House Bill 1872 convened a new STEM alliance to expand STEM opportunities in our K-12 system and develop a system for measuring how well the state and our partners are preparing students for STEM-related opportunities after high school.
Resources