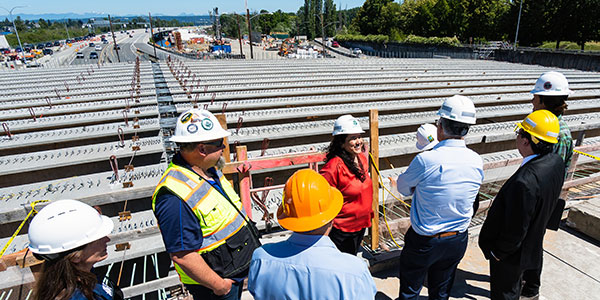 Washington state is making unprecedented investments in transportation infrastructure to improve safety, mobility, economic vitality and sustainability. Washington is home to North America's largest ferry system, the world's longest floating bridge, and some of the busiest ports on the West Coast.
Current Work
In 2022, the governor signed the $17 billion "Move Ahead Washington" transportation package. The package includes significant funding for maintenance and preservation of existing roads and bridges all across the state, but is also the greenest transportation package ever with transformative funding for cleaner, more efficient transportation options.
With new revenue from the state's climate cap-and-invest program, the 16-year package includes historic investments in transit – including free transit for everyone 18 and younger, safe bike and pedestrian facilities, electrification of ferries and cars, and removal of fish passage barriers along state highways. Move Ahead Washington will support an estimated 2,390 construction and ferries jobs annually.
This follows the passage in 2015 of what was at the time the largest single transportation investment in state history. Gov. Inslee led the effort to secure a $16 billion package that continues to address critical congestion, maintenance and safety needs around the state. The package support more than 200,000 jobs.
Transportation is the state's leading emitter of greenhouse gases that contribute to climate change. In addition to electrifying the state's ferry fleet, the state is working towards a goal of 100% new car sales being zero emission beginning 2030, and will ban the sale of new gas-powered vehicles by 2035, if not sooner. The governor is committed to policies and incentives that make electric vehicles and charging infrastructure more available, affordable, and convenient.
Key Successes
2023 Transportation Key Successes
The transportation budget includes nearly $1 billion of funding from the Climate Commitment Act for historic investments in cleaner transportation options including the first hybrid-electric ferry; new and improved bicycle and pedestrian infrastructure; incentives to purchase clean fuel vehicles; and a variety of transit programs   
To address increasing numbers of crashes and fatalities, the governor and Legislature adopted several measures to improve road safety. SB 5272 will allow speed cameras to be placed in highway work zones where workers are present. New funding is also provided to address pedestrian or bike safety issues, including improving signals along a section of SR 7 where a young man was killed while walking across the street.  
In an effort to recruit and retain Washington State troopers, the budget includes new funding for a new trooper training academy and trooper recruitment bonuses, which range from $5,000 to $8,000 per hire.
2022 Transportation Key Successes
The most transformative transportation package in state history. Legislators passed the 16-year, $17 billion "Move Ahead Washington" transportation package. The package funds preservation and maintenance as well as historic investments in clean transportation initiatives. This includes funding four new hybrid-electric ferries, support for new state and local decarbonization projects, and investments that expand transit, bicycle and pedestrian infrastructure.
Turbo-charging the transition to zero-emissions vehicles (ZEV). The Legislature appropriated over $1 billion towards vehicle electrification, including electric vehicle (EV) charging infrastructure funding. Included are funds for community-based EV charging infrastructure to ensure Washingtonians who live in multifamily housing or don't have dedicated parking have convenient access to charging, and fast charging along highways. A new Interagency EV Coordinating Council will analyze and develop a strategy to identify all of the charging and policy needs in order for Washington to be ready for 100% ZEV new car sales no later than 2035.
Electric vehicle registrations in Washington increased to 114,600. Increasing the number of electric vehicles in Washington has the potential to reduce total greenhouse gas emissions by approximately 1 million metric tons of carbon dioxide a year by 2030. 
2021 Transportation Key Successes
Cleaner fuels for Washington consumers. The Legislature passed the governor's proposed clean fuel standard which requires the reduction of carbon emissions from transportation fuels by expanding the use of electric vehicles and lower-carbon fuels, including biofuels. The standard will reduce emissions, clean the air in communities in high-traffic areas and grow good jobs.
Transitioning state fleets to zero-emission vehicles. The governor signed Executive Order 21-04 directing most state agencies to transition to an all-electric fleet by 2035.
Electric vehicle registrations in Washington increased 192% between 2017 and 2021, and public charging ports for EVs in Washington state increased 131% during that same time.
2020 Transportation Key Successes
Fulfilling our obligations. After Initiative 976 threatened to slash billions in needed work on our state transportation infrastructure, the governor was a leader on efforts to balance the budget and un-pause projects so progress could continue. The budget also provided funding to meet the state's obligation to improve fish passage barriers; continued much-needed transit services; and prioritized safety on state highways by retaining preservation funding and continuing to support the next class of state troopers.
2019 Transportation Key Successes
Making electric vehicles more affordable and practical. Electric vehicle incentives and infrastructure were among the key planks of the climate and clean energy package signed by Gov. Inslee for the 2019 session. HB 2042 and the 2019-21 budgets include several provisions to help make EVs more affordable and practical for Washingtonians, including the expansion of a sales tax incentive for the purchase or lease of new EVs under $45,000 as well as used EVs under $30,000. Legislators also doubled funding for the governor's EV Infrastructure Bank from $1 million to $2 million which will speed up the construction of high speed charging stations across the state. In 2010, there were just 12 publicly accessible charging stations in Washington. Today, we have over 2,400.
Electrifying Washington ferry fleets. The 2019-21 transportation budget helps launch the electrification of the state's ferry fleet with funding for one ferry conversion, and authorization for another. Funding was also provided for the construction of a new electric 144-car ferry, with the option to buy four more. Transitioning these ferries from diesel to electric-hybrid will virtually eliminate engine noise and vibration that can hurt orcas, improve reliability, save up to $14 million a year on ferry operating costs and significantly reduce diesel and carbon emissions.
Transitioning public transit to electric power. Legislators approved tax incentives that encourage rapid state and local procurement efforts for EVs and zero-emission transit options, including $200 million for transit grants that can help agencies transition to electric buses, a B&O tax credit to purchase electric para-transit buses for the elderly and people with disabilities, a $1.2 million EV car-sharing grant program for underserved and low-income communities, a sales tax exemption for EV battery components for electric buses and a property-lease tax exemption for EV and fuel cell infrastructure on public land.
Developing an ultra-high speed rail corridor. Gov. Inslee has been engaged with regional partners in Oregon and British Columbia to evaluate and develop an ultra high-speed rail corridor that would connect Seattle to Vancouver B.C. and Portland, with points in-between and beyond. Building upon a recent feasibility study and business case analyses that indicate strong economic and environmental benefits, legislators approved funding to further consider how the corridor will be governed, and the operating structure, general powers, legal instruments, and contract requirements, as well as other authorization needed to advance the development of the corridor.
Continuing I-5 Columbia River bridge replacement effort. The 2019-21 transportation budget provided funding to the reinvigorated bi-state effort to replace the I-5 Columbia River bridge. The funding will allow Washington State Department of Transportation to reopen a project office to reengage key stakeholders, reevaluate the scope, schedule and budget for the project as well as a reevaluation of permits and to develop a finance plan.
2018 Transportation Key Successes
Electrify the state vehicle fleet. This year, the governor helped secure up to $5.5 million to replace state-owned gas or diesel passenger vehicles with fully electric vehicles. This continues the governor's effort to double the state's EV fleet.
Fund more electric charging stations. Electric vehicle charging stations have helped reduce range anxiety for EV users that need an extra boost on long-distance drives. Charging stations have been installed up and down the I-5 corridor and on some of Washington's east-west freeway corridors. In just a few months, new charging stations displaced 13,500 gallons of gasoline. This year, the governor secured $17 million of the Volkswagen Mitigation Fund for the state's EV Infrastructure Bank to purchase, install and maintain light duty electric vehicle supply equipment in strategic locations across the state to service EV drivers and accelerate EV adoption.
Fund electric transit and school buses. Electrifying bus fleets eliminates tailpipe pollution and dramatically improves air quality. In King County alone, transit takes 175,000 cars off the road each day, which keeps air cleaner, helps reduce traffic and promotes more efficient land use. Gov. Inslee is using some of the Volkswagen settlement funds to help more school districts and transit agencies purchase electric and electric-hybrid buses.
Convert to electric ferries. Converting state ferries from diesel to battery-electric hybrids significantly reduces diesel and carbon emissions, virtually eliminates engine noise that can hurt orcas, improves reliability, and saves up to $14 million on ferry operating costs. Work is underway to plan for electric ferry conversion of the state's Jumbo Mark II class vessels.
Advance a clean ultra high-speed corridor. The State Legislature conducted a feasibility study for a new ultra-high-speed rail corridor connecting Seattle and Vancouver, British Columbia with potential stops in Portland and beyond. The results were very promising: we have the critical mass of a growing population, the muscle mass of a strong economy and the traffic problems to justify a new system. The study found that within a few years of operation, ridership could be as high as 1.8 million, and with the right technology, the service could pay for its own operations and maintenance. The economic benefits analysis showed a 20 to 1 return on investment, a reduction of 40,000 metric tons of greenhouse gas emissions, removal of up to 17 percent of trips from our freeways and the creation of up to 201,200 jobs per year. As a next step, Gov. Inslee is working with our partners to fund a business case analysis of ridership and revenue to attract further private sector investment.
2017 Transportation Key Successes
Reduce electric vehicle range anxiety. Gov. Inslee's EV Infrastructure Bank awarded $1 million in grants to install EV fast-charging stations across some of the state's most traveled freeways. The new charging stations will ensure EV drivers won't go more than 30 to 50 miles on those roads without finding a public charging station.
Ensure the safe testing and operation of autonomous vehicles (AVs). AVs have the potential to save lives, improve mobility and be an important tool in our efforts to combat climate change. In June, the governor signed an Executive Order 17-02 to cultivate and nurture AV innovation and assure safe testing and operation. Since then, over 20 AV technology companies have made Washington state home.
Bolster governor's EV Fleets Initiative. In April, Gov. Inslee delivered the first of 100 electric Chevy Bolts for the state fleet. The vehicles were purchased as part of his EV Fleets Initiative, which requires 20 percent of new state sedans to be electric by the end of 2017.
Provide I-405 traffic relief. The governor secured $11.5 million to harden the shoulder of I-405 between SR 527 and I-5 in order to add capacity during peak times. In addition, Gov. Inslee funded preliminary engineering to alleviate a traffic choke-point near Bothell.
2016 Transportation Key Successes
National and international leadership on energy.

In February 2016, Gov. Inslee co-led a bipartisan coalition of 17 governors from around the country in an interstate agreement to promote clean energy, economic development, and a new American energy future.

Electric vehicle infrastructure. Making significant progress toward Gov. Inslee's Results Washington goal of 50,000 EVs on the road by 2020, he signed legislation (HB 1853) that will allow utilities to more effectively play a role in building up Washington's electric vehicle infrastructure.
Gov. Inslee signed into law HB 2524, the 2016 transportation supplemental budget that included several of his key priorities including:

First steps to addressing recruitment and retention issues at the Washington State Patrol by providing a 5 percent salary increase for troopers, sergeants, lieutenants and captains;
Operations funding for an 87-car stand-by ferry to improve system maintenance and reliability;
Key traffic relief initiatives including 10 new incident response trucks throughout Puget Sound to more quickly clear collisions and blockages, faster replacement of aging expansion joints along I-5, and authorization for the state Department of Transportation to lift Interstate-405 tolls on nights, weekends and holidays and additional capacity at certain chokepoints on I-405 to alleviate congestion.

Autonomous vehicles. In early 2016, Gov. Inslee met with key executives from Google to recruit their self-driving car project to Washington state. Google later announced it had selected Kirkland, as its location for a testing program with the first of its vehicles. In addition to improving road safety, autonomous vehicles could transform mobility for millions of people, reclaiming the billions of hours wasted in traffic, and bringing everyday destinations and new opportunities within reach of those who might otherwise be excluded by their inability to drive a car.
2015 Transportation Key Successes
Transportation investment package. Gov. Inslee brokered a 16-year, $16 billion "Connecting Washington" transportation investment package that will create ~200,000 jobs and includes:

Road and safety projects around the state including megaprojects like SR 520 bridge, the North Spokane Corridor, SR 167/SR 509 Gateway Project, and widening of I-5 at Joint Base Lewis-McChord
Highway maintenance and preservation
Non-highway projects like bike paths, rail and transit
Funding for ferries including a fourth Olympic Class Ferry Vessel
Authorization for Sound Transit to seek voter-approval for $15 billion to extend light rail to Everett, Tacoma and Redmond
Investments related to fish barrier removal, bridge preservation, freight rail improvements, electric vehicle and alternative fuel tax credits and commute trip reduction programs

Electric vehicle infrastructure. Making significant progress toward Gov. Inslee's Results Washington goal of 50,000 EVs on the road by 2020, he signed legislation (HB 1853) that will allow utilities to more effectively play a role in building up Washington's electric vehicle infrastructure.
2014 Transportation Key Successes
SR 530 slide response. After the devastation of the SR 530 slide, Gov. Inslee directed WSDOT to work quickly and diligently to rebuild the road. Crews removed 90,000 cubic yards of debris in just twenty days and fully reconstructed the road in just 109 days.
Electric vehicle infrastructure. Gov. Inslee advanced statewide electric vehicle charging infrastructure through a $250,000 evaluation of expansion opportunities.
Transportation investment negotiations. Led by Gov. Inslee, negotiations continued on a transportation investment package.
2013 Transportation Key Successes
Skagit Bridge response. When the Skagit Bridge collapsed, Gov. Inslee and WSDOT began to rebuild almost immediately. The bridge was finished ahead of schedule with the temporary bridge in place in 27 days and the permanent bridge installed in 66 days.
Resources
Related Websites