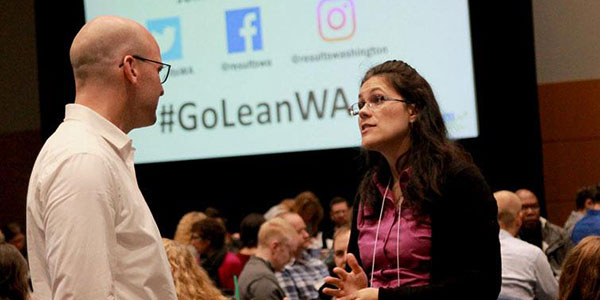 Results Washington was established by Governor Jay Inslee in 2013 to build on a long Washington state history of leading the nation in public-sector performance management and continuous improvement. The agency collaborates closely with state agency partners around the Governor's five key goal areas:
Results Washington aims to foster continuous improvement and build a lasting culture of employee-led, customer-focused problem-solving and innovation throughout state government. Under Gov. Inslee, Washington has become a national leader in adapting proven private-sector principles to state government.
Results Washington's strategic priorities include,
Results Washington regularly hosts public performance review meetings. You can view past meetings and see agendas for upcoming meetings on their online calendar.
Results Washington hosts the annual Washington State Government Lean Transformation Conference each October – an event that advances Lean and Continuous Improvement in state government, creating and adding more value for agency employees and Washingtonians.
Results Washington monitors to completion executive cabinet agency action plans developed in respond to performance audits conducted by the Washington State Auditor's Office.
Resources