Story Body
Gov. Jay Inslee visited Anacortes Wednesday to visit a supportive housing development, meet local ferry operators, and tour a drug treatment facility.
The Anacortes Family Center has built several supportive housing developments for local families. Their newest building features onsite childcare and other vital services to help families escape homelessness once and for all. The city, the county, and the state have partnered to fund the effort.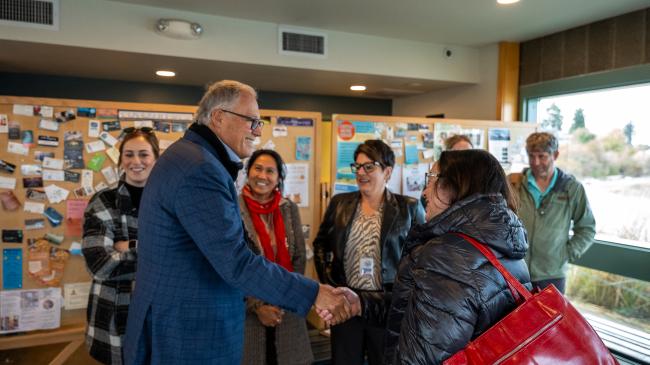 The governor also visited with Guemes Island ferry operators, who transport over 400,000 passengers each year. Revenue from the cap-and-invest program created by the Climate Commitment Act funded the replacement of the current diesel-fired ferry with an electric model to enter service in 2025.
Inslee also visited the Didgwalic Wellness Center, a treatment facility operated by the Swinomish Tribe. The center has a strong record for retaining patients through the course of treatment and preventing relapse. Recently, the state Department of Commerce awarded a $4.5 million grant to the nonprofit so they could purchase an apartment building to accommodate patients in treatment.
The governor's final stop was a speaking appointment at the Small Business Conference Skagit. Washington state boasts 600,000 small businesses, and the state is simultaneously ranked as a "Best State for Business" and a "Best State for Workers." Last year, 25% more business applications were filed than in 2019 - that's a strong indicator for the state's economy.
Read more: