Climate Impacts and Action in Washington. Together, We Can Lead.
Bill Dewey harvests shellfish, an occupation that dates back millennia in the cool, coastal waters of Washington. But fast-moving changes threaten that livelihood and could radically alter the quality of life across much of the Evergreen State.
Dewey, who's farmed shellfish for 30 years, has seen the changes firsthand. Rising acidity in seawater, believed to be caused by carbon emissions from cars, trucks and industry, is eating away at the shells that protect baby oysters. At risk is a $100 million industry with deep historical and cultural significance in Washington.
"We feel like the proverbial canary in the coal mine," said Dewey, a manager at Shelton-based Taylor Shellfish Farms, a family-run business that has become the largest producer of farmed shellfish in the country.
From droughts to super storms, from epic floods to relentless forest fires, Washington has a front-row seat for the adverse effects of a world being transformed by climate change. Tackling greenhouse gas emissions has become a signature initiative for Gov. Jay Inslee, who wants Washington lawmakers to approve what could be some of the nation's most far-reaching government policies addressing climate change.
Impacts around the state
Inslee made stops around the state to highlight the challenges facing communities, businesses and families as a result of climate change. He also visited industries and governments managing the impacts of climate change and developing innovative solutions to help prevent climate change from getting worse.
"We cannot be passive witnesses to catastrophic change," said Inslee, a fourth-generation Washingtonian. "If we don't act, our children and grandchildren will inherit these problems on a scale that's hard to imagine. Vibrant forests, farms, salmon and shellfish are their birthright — part of what it is to be a Washingtonian."
Inslee has long championed the need for action to fight climate change. In 2007, he co-wrote the book "Apollo's Fire: Igniting America's Clean Energy Economy," which argues for fostering an economy based on renewable energy. In Washington, D.C., as a member of Congress, Inslee pushed for federal policy that would cut carbon pollution from vehicles, power plants and the industrial sector.
As Washington's governor, Inslee launched a Carbon Emissions Reduction Taskforce composed of leaders in industry, labor, public health, communities of color and advocates for the environment. In November 2014, Inslee's group gave advice on several possible paths, including a statewide cap-and-trade program, a carbon tax on emissions or other market-based systems to cut carbon pollution.
As the CERT did its homework about smart ways to craft carbon reduction policies, Inslee kept busy doing his own additional research. To show the ways in which climate change is rapidly becoming an acute problem in Washington, Inslee embarked on a months-long climate tour. He crisscrossed the state visiting places — like Taylor Shellfish Farms — to meet Washingtonians concerned about the many ways carbon emissions and other greenhouse gases threaten the state's economy, environment, public health and quality of life.
Inslee also heard how an infestation of Asian long-horned beetles moving in on drought-weakened stands of forest could create a major fire danger with blighted trees along the state's scenic Columbia River Gorge.
The governor talked with foresters who are seeing the real effects of more insect damage in timber that contribute to worsening drought and fires that could cripple the state's multibillion-dollar forest products industry.
According to climate scientists, drier, hotter summers are likely to continue to cause more devastating fires.
The 2014 fire season was the largest ever in our state. The Carlton Complex fire alone burned a quarter-million acres of forest in Okanogan County, ranking it as the largest fire ever recorded in Washington history.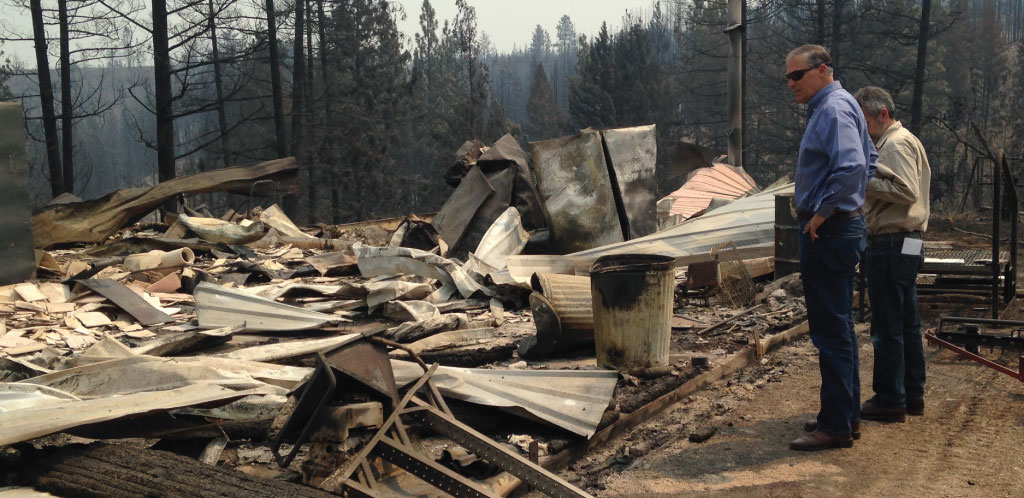 A home destroyed by wildfire in Okanogan County
If raging forest fires were not enough, seasonal flooding was described as a long-standing issue in communities Inslee also toured. These same communities are seeing more frequent and more dramatic episodes of high water.
And Inslee met with residents of one Seattle neighborhood who face increased risks of asthma and other lung diseases brought on by the exhaust spewing from heavy truck traffic.
Finding solutions
With challenges, however, come opportunities. Washingtonians have a long history of innovation in sectors as diverse as aerospace, software, retail and agriculture. Inslee is hoping to harness that pioneering spirit to help curb greenhouse gas emissions and foster new industries and clean-energy jobs. And it's not a vision for the distant future. As Inslee saw in stop after stop on his climate tour, people throughout Washington are already finding ways to save energy and create cleaner, renewable energy sources.
In the Yakima Valley city of Outlook, Inslee stopped at George DeRuyter & Sons Dairy, a third-generation farm where a waste digester breaks down manure from thousands of cows into methane used to create electricity.
In Redmond, Inslee visited Helion Energy, a company that spun clean energy technology from nuclear fusion research at the University of Washington.
In Skamania County, Inslee toured the county's Wind River Biomass Utility, which generates power using wood biomass fuel.
In Bellingham, he visited the Building Performance Center, a nonprofit facility that trains and works with contractors, building owners and others to make buildings healthier and more energy efficient.
Inslee said he is optimistic that the state that is home to Microsoft and Boeing has the scientific and technological chops to tackle climate change in ways that bolster — not harm — the state's diverse economy.
"This is a scientifically literate state," Inslee said in an interview with The New York Times about steps to fight climate change. "This can be a jobs generator, and my state wants to get in the game."
Growing threats
Inslee also knows that the stakes are high, particularly in places such as Washington's Chehalis River basin.
The basin covers an area of old logging communities and railroad towns in a pocket of Southwest Washington known for its rolling hills, Christmas tree farms and tomato patches.
The area also is notorious for chronic flooding. More than 800 studies have been conducted since 1933, all seeking ways to reduce flooding near the Chehalis River. A series of record-setting floods have swamped the area in the past 25 years. The worst struck in December 2007, when heavy rains swelled the Chehalis River to 10 feet over flood stage, spawning mudslides and sending people fleeing from their homes and businesses. Communities were cut off as floodwaters submerged roads, including a several-mile stretch of Interstate 5, one of the West Coast's most vital transportation corridors.
If anyone knows about flooding along the Chehalis, it's Susan Ujcic, co-owner of Helsing Junction Farm, near the small community of Rochester. For more than two decades, the farm beside the river has produced organic vegetables, fruits, flowers and herbs.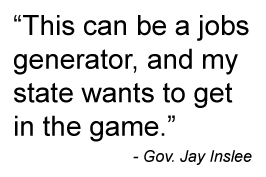 Inslee stopped by Ujcic's farm and heard how floodwaters during the epic 2007 flood slowly and steadily rose 8 feet in her barn and a foot inside her home.
And despite taking measures to mitigate floods — including raising her farmhouse 5 feet after the disaster — Ujcic said she and her neighbors still feel vulnerable.
"We're just sitting ducks, waiting for the next flood," Ujcic said, according to The Olympian newspaper.
Ujcic's fears are well-founded. In the next 100 years, climatologists project the already flood- prone valley will experience more severe flooding related to climate change. Some models suggest river flows during storms could grow up to 90 percent stronger, raising peak flood levels another 2 feet to 6 feet.
An hour's drive away, the city of Auburn is also preparing for that kind of future. In early November, the governor gathered with scientists and other local leaders along a scenic stretch of Auburn's Green River to get a first-hand look at the Reddington Levee project. The project, on the west bank of the river, offers better flood protection for nearly 600 properties.
The new levee has more riverbank setbacks that give rising waters a wider corridor, which helps the community prepare for more frequent flooding during different times of the year, a reality brought on by changing weather patterns related to climate change. The levee is lined with shade trees that cool the water for newly hatched salmon.
Three hours to the east, in the fertile, sunny Yakima Valley, engineers and construction crews are working on a different water-related challenge: how to capture and store it for long, dry summers.
In August, Inslee toured the $26 million Roza Irrigation District's new reservoir and farmland irrigation system near Sunnyside. The reservoir is designed to temporarily hold 520 million gallons of water until needed by farmers, helping to save 2.8 billion gallons of water a year that otherwise would be wasted flowing unused through irrigation canals.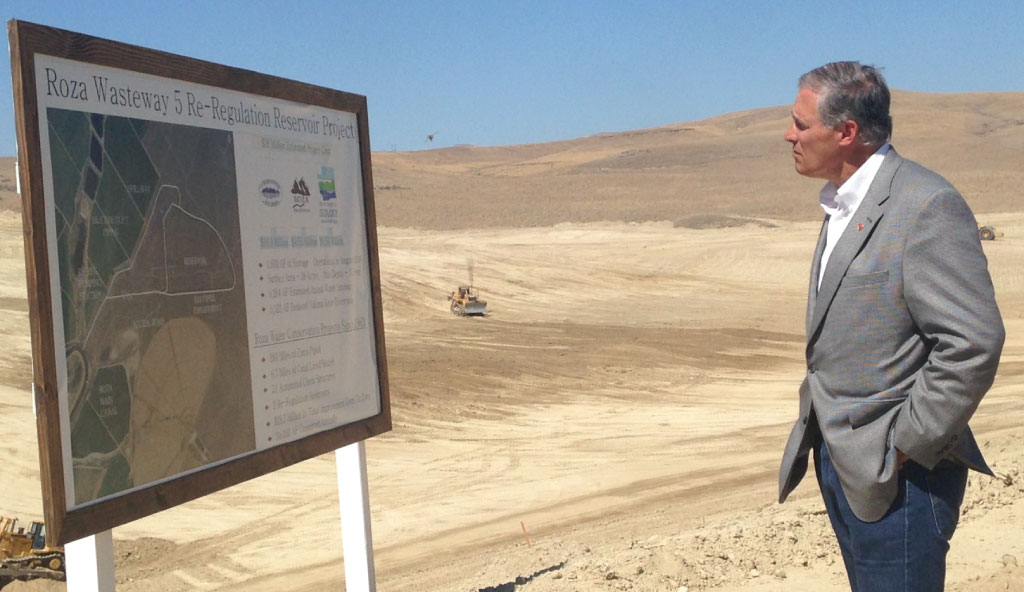 Roza Irrigation District's new irrigation reservoir to help farmers cope with drought.
Inslee praised the project as essential for farmers to put to better use the region's precious water supply in the face of droughts brought on by climate change. Climate scientists say the Cascade Mountains, a main source melting.
"We're not just sitting around waiting for climate change to bite us; we're investing in a smarter irrigation system," Inslee said of the project, according to the Yakima Herald-Republic.
Taking action
Investments in smart responses to climate change can be found in unexpected places. In Seattle, Inslee donned a yellow hard hat for a tour of the West Point Treatment Plant to highlight how climate change and rising seawaters threaten public works projects.
Seattle's 50-year old treatment plant on the edge of Puget Sound serves more than 1.5 million residents. Higher tides and more severe storm surges mean that waves are crashing over the plant's retaining walls and swamping its intake valves with saltwater. The saltwater is corroding sewer pipes and pumping systems, and costing millions of dollars each year for maintenance.
And the problem is expected to get much worse, according to studies that estimate that sea levels in Seattle will rise 7 inches by 2050 and 24 inches by 2100.
"We've had $50 million in costs for fighting fires. Tens of millions of dollars of damage to the oyster industry," Inslee told KUOW. "And here we don't have an estimate at West Point but we know it's significant because we know it's not just this point it's all these ancillary pumping stations that are going to have to be if not rebuilt, refortified to deal with sea water intrusion."
Eighty miles to the north, Inslee got an up-close look at the city of Anacortes' new $56 million water treatment plant near the Skagit River. The plant replaced an aging facility prone to flooding.
The new plant can treat 42 million gallons of water a day, up from the old facility's capacity of 30 million gallon a day. The city placed all critical equipment, including pump stations and power plants, above the 100-year flood elevation and beyond the reach of the expected rise in ocean levels.
Anacortes Public Works Director Fred Buckenmeyer told Inslee that the city had climate change in mind when planning began on the new treatment plant in 2009. And the issue isn't just ocean level. Experts predict more flooding throughout the year, which means the plant will be treating more sediment-laden river water.
The last stop on Inslee's 2014 Climate Tour was the neighborhood of South Park. South Park sits in the shadow of Seattle's gleaming skyline. But the heavily industrialized area is awash in emissions from trucks, aircraft, ships and smokestacks. Residents there, worried about their children's health, say they need immediate relief from air pollution.
Inslee walked around the neighborhood and met with community leaders. The conversation centered on the health impacts of living in a neighborhood that receives a heavy blanket of air pollution day in and day out and lies on the banks of one of the state's most polluted waterways.
The nearby Duwamish River has been declared a federal Superfund site. The heavy trucks that use Highway 99 and other freeways fill the air with exhaust particles carrying benzene, formaldehyde and other toxins. The result: Chronic asthma rates in South Park and the greater Duwamish Valley are higher than in any other neighborhood in King County. One recent study that links illness to air quality concluded that South Park and nearby Georgetown residents can expect to die years earlier than residents in other parts of King County. And, tragically, no neighborhood in the county has a higher rate of children who are hospitalized with asthma attacks.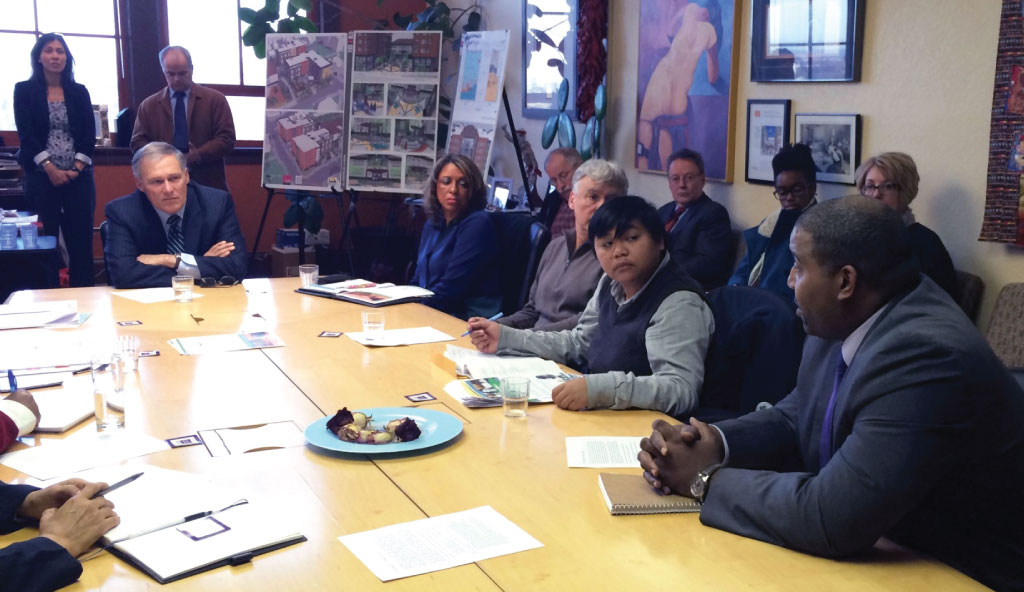 Leaders in the South Park neighborhood discuss health concerns related to carbon pollution in their community.
"We want to encourage them to exercise. But then the parents, we are puzzled. Is it safe to come and play next to the cars on the highway?" said South Park resident Paula Lopez, speaking with Inslee on a community playground, straining to be heard over the roar of trucks on a freeway a few hundred feet away.
Jazmyne Carlin, a 13-year-old who lives in South Park and attends Denny International Middle School, told Inslee that when she was younger, she just assumed that all children had asthma. Jazmyne, along with a fellow Duwamish Valley Youth Corps member, presented the governor with a giant-sized report that mapped the pollution-related worries of South Park residents.
Inslee thanked the children and left them with a promise: "We are going to try to do something about it."