Story Body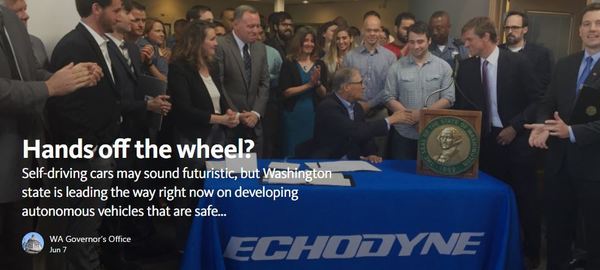 Self-driving cars may sound futuristic, but Washington state is leading the way right now on developing autonomous vehicles that are safe and could help save lives, reduce carbon emissions and create jobs.
Gov. Jay Inslee today signed an executive order to support safe testing and operation of autonomous vehicles (AVs). The executive order establishes an interagency workgroup to work with local, regional and federal officials, stakeholders and industry groups, recommend changes or clarifications to state polices and rules about AVs, and examine other emerging automated transportation technology. The order also enables pilot programs for organizations developing AV equipment and technology.
The governor signed the executive order at Echodyne, a radar technology startup in Bellevue that is working to ensure AVs stay safe and affordable.
"Washington state is already a leader in autonomous vehicle technology. We are an early-adopter that welcomes innovation and the safe testing and operation of AVs," Inslee said. "AVs could help save countless lives, reclaim time spent in traffic, improve mobility and be an important tool in our efforts to combat climate change."
Read the rest of the story on the governor's Medium page.