Story Body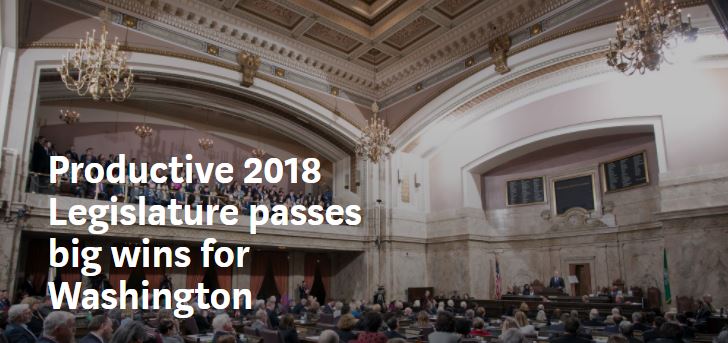 When Gov. Jay Inslee delivered his State of the State address at the beginning of the 2018 legislative session, he challenged lawmakers to use this year's 60-day session to tackle some of our state's biggest problems.
On many fronts, the Washington Legislature rose to the occasion. Lawmakers approved a supplemental budget that meets the state's final basic education obligations under the McCleary lawsuit, adds crucial funding for behavioral health services, provides property tax relief for homeowners and invests in strategies to fight the opioid epidemic.
Additionally, legislators approved modest new regulations for firearms, a first-in-the-nation net neutrality bill and long-awaited policies such as the Reproductive Parity Act, equal pay for women, Breakfast After the Bell and several measures to improve voter access and strengthen democracy.
"This was a very productive session, and state lawmakers can leave Olympia feeling proud about a job well done," Inslee said. "They passed a long list of thoughtful legislation that will have impacts on Washingtonians for decades to come. They took on significant challenges and adjourned on time."
Read the rest of the story on the governor's Medium page.