Story Body
Gov. Jay Inslee today announced that Serve Washington, the state's commission on national and community service, has been awarded $17.8 million in AmeriCorps funding from the Corporation for National and Community Service, the federal agency responsible for AmeriCorps and other national service programs. Funds awarded to Serve Washington are subgranted to Washington nonprofit organizations, state and local governments and educational institutions following a highly competitive process.
"This year, our AmeriCorps members will help to close opportunity gaps for school-age children, provide more resources for students to prepare for higher education and career training, protect our environment and so much more," Inslee said. "As they serve, they not only make tremendous contributions to our communities, they also expand opportunity for themselves by gaining skills and experience to jump-start their careers."
The 1,526 AmeriCorps members will collectively earn education awards valued at approximately $6,095 per member upon completion of a 1,700 hour term of service to pay for college or pay off student loans.
"The law creating AmeriCorps gave a key role to states in determining how national service resources are used," said Serve Washington Executive Director Amber Martin-Jahn. "Serve Washington is honored to partner with nonprofits and state agencies across Washington to bring these federal resources to our communities."
"Building on a strong tradition of neighbor helping neighbor, AmeriCorps members will change lives, improve communities, and build a safer, stronger, and more united Washington state," said Chester Spellman, director of AmeriCorps. "For 25 years, the AmeriCorps members who pledge to 'get things done' have represented the best of America while demonstrating the great promise and ideals of our country. I salute all the AmeriCorps members who will join them, and thank those who help make their service possible."
Serve Washington received the third-largest competitive grant amount received by any state. In addition to the dollars distributed through the national competition, Serve Washington receives a formula allocation.
AmeriCorps is based on public-private partnerships, with AmeriCorps grantees leveraging significant outside resources to operate their programs. The $17.8 million in federal funds received will be matched by more than $25 million in local resources.
Serve Washington AmeriCorps grants and member positions will be distributed as follows: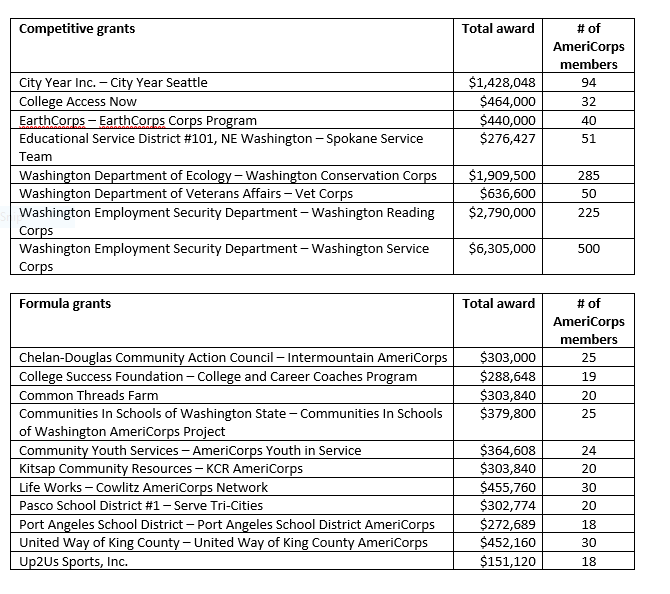 Organizations are now recruiting for AmeriCorps members to begin service this fall. AmeriCorps members typically receive a modest living stipend and a Segal AmeriCorps education award upon completion of service. Those interested in serving can learn more at servewashington.wa.gov/join-americorps.
Funding is also being awarded by the Corporation for National and Community Service to two multi-state programs and a tribal program headquartered in Washington: the Washington Campus Compact College Access Corps, Mt. Adams Institute VetsWork Environment programs, and Bands of the Yakama Nation.
Serve Washington advances national service, volunteerism and civic engagement to improve lives; expands opportunity to meet the local critical needs of residents of Washington; and strengthens community capacity while creating healthy and resilient communities. For more information, visit servewashington.wa.gov.
This funding is provided by the Corporation for National and Community Service, the federal agency for volunteering and service. This year marks the 25th anniversary of AmeriCorps. Since the program's inception in 1994, more than 1 million Americans have served their country through the national service program. Organizations are currently recruiting for AmeriCorps members to begin service this fall. Those interested in serving can learn more at AmeriCorps.gov/Join.